Denver Shots for Tots and Teens.
Posted 03/13/2017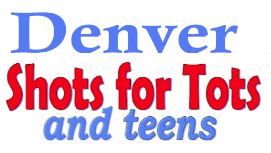 Low or no cost immunizations
Patients, newborn through 18 years of age, who are eligible for Vaccines For Children program (on Medicaid, have no insurance or insurance not covering vaccines, American Indian/Alaskan Native). Patients with CHP+ or private insurance are accepted (with insurance card) *unable to see patients with Kaiser and Human click HERE for more information
Vacunas de bajo costo o sin costo para pacientes
Pacientes, desde recién nacidos hasta de 18 años de edad que cumplen con los requisitos para el programa Vaccines For Children (que tienen Medicaid, no tienen seguro o tienen seguro que no cubre vacunas, indígenas de Estados Unidos/indígenas de Alaska). Se aceptan pacientes con CHP+ o seguro privado (traiga la tarjeta del seguro). *No podemos atender a pacientes con Kaiser ni Humana de click AQUÍ para más información.
.