David Santos
ELA-S Teacher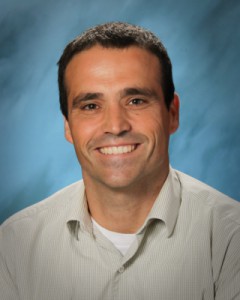 Email:
DAVID_SANTOSSOLARZANO@dpsk12.org
3rd Grade
---
I was born in 1975 in Barcelona, Spain. When I was six years old, my family moved to Malaga, Spain, and I lived there until I was 25 years old. Malaga, is a famous place because Picasso and Antonio Banderas were born there. When I was 26, I moved to Denver and received my B.A. in English Education at the University of Northern Colorado.  I have been working in DPS for fourteen years (five years as a teacher assistant and nine years as a third grade teacher). I love working with students and helping them to achieve their goals. I want my students to feel safe in my classroom so that they can take risks, try new things, and learn from their mistakes. My family is a very important part of my life.  I have two beautiful daughters – Eliana, who is seven years old, and Lorena, who is five years old.  My wife, Kari, is also a teacher in Aurora Public Schools.  We enjoy traveling, watching soccer, and reading.
Nací en 1975 en Barcelona, España. Cuando tenía seis años de edad, mi familia se trasladó a Málaga, y allí viví hasta los 25 años de edad. Málaga, es famosa porque Picasso y Antonio Banderas nacieron allí. Cuando tenía 26, me trasladé a Denver y recibí mi Licenciatura en Filología inglesa en la Universidad de Northern Colorado. He estado trabajando en DPS durante catorce años (cinco años como asistente de profesor y nueve años como maestro de tercer grado). Me encanta trabajar con los estudiantes y ayudarlos a alcanzar sus metas. Quiero que mis alumnos se sientan seguros en el aula de clases, que sean capaces de asumir riesgos, probar cosas nuevas y aprender de sus errores. Mi familia es una parte muy importante de mi vida. Tengo dos hijas hermosas,
Eliana, que tiene siete años, y Lorena, que tiene cinco años. Mi esposa, Kari, es también maestra en las escuelas públicas de Aurora. Nos gusta viajar, ver fútbol y leer.